Patio Contractor in New Jersey
A beautiful patio can increase the value of your home or property and create an outdoor atmosphere for family and friends to enjoy. Whether you are trying to update your home with a new patio installation, renovating an older patio, or repairing an existing patio we will work with you to achieve the desired look at an affordable price. Please view some of our previous work in Central Jersey below. Call our office today to schedule a free estimate at 732-972-3377.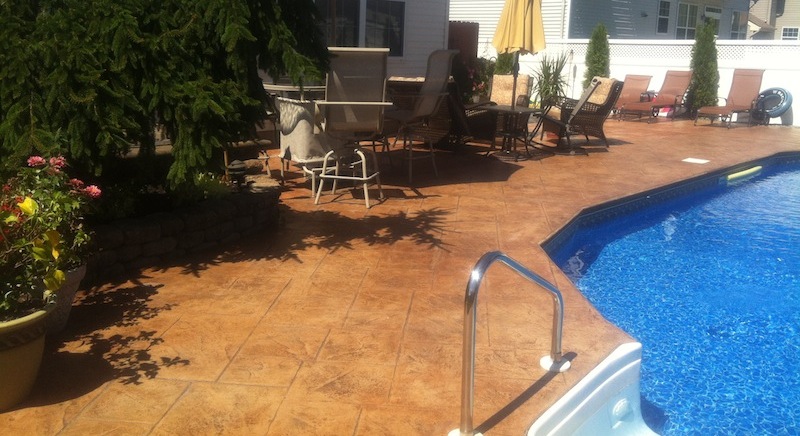 Our goal is to provide quality masonry services at very affordable prices. A great backyard usually starts with a nice patio. We offer many great ideas and designs for patio layouts and textures. We are also able to custom build your patio to utilize the available space in the most efficient and attractive manner possible.
With quality craftsmanship, our patios are built to last, and they provide the perfect gateway into the perfect yard.
Please view our Patio Gallery: (click to enlarge image)
Patio Installation
Paradise Stone & Tile Inc. has been a leader in patio installations in the Central New Jersey area. We always strive for excellence in craftsmanship and service in every one of  our patio construction projects.
Raised Patio
A Raised Patio offers endless design options as well as cost savings compared to traditional deck replacements.  Raised patio installations are similar to traditional patio installations but with the added benefit that raised patios can be constructed in locations that lack uniform grading and that do not directly come in contact with surrounding landscaping.
Paradise Stone & Tile's raised patio installation specialist offers homeowners of New Jersey professionally designed raised patios to meet unique space requirements, landscaping, layouts, and aesthetic preferences. Our raised patios can provide the perfect backdrop for enjoying the great outdoors.
Brick Patio
A brick patio is a beautiful way to highlight your backyard. We provide brick patio design and construction for backyard patios, graden patios, and pool patios throughout New Jersey. We also install brick patio steps, brick walkways and brick driveways.
Paver Patio
We can also install brick paver patios in a variety of different styles, patterns and colors. From clean and formal to rustic and rugged, your new patio will fit your house and lifestyle.
Stone Patio
A great backyard usually starts with a nice stone patio. We also offer bluestone patio design and construction.
Concrete Patio
A concrete patio is a great way to put a nice hardscape in your backyard. To give your concrete patio an added effect we usually recommend stamped concrete which mimics any kind of natural stone.
Stamped Concrete Patio
A Stamped Concrete Patio is one of the most popular and most affordable selections when installing a new patio.
Flagstone Patio
For a more natural look a flagstone patio is a great addition to any backyard. Using natural flagstone in various colors, we can install a patio that blends into your existing landscape beautifully.
Patio Repair
We also have the qualified experience to repair any patio whether it be concrete, brick, stone, or pavers. Give us a call today for a free estimate.